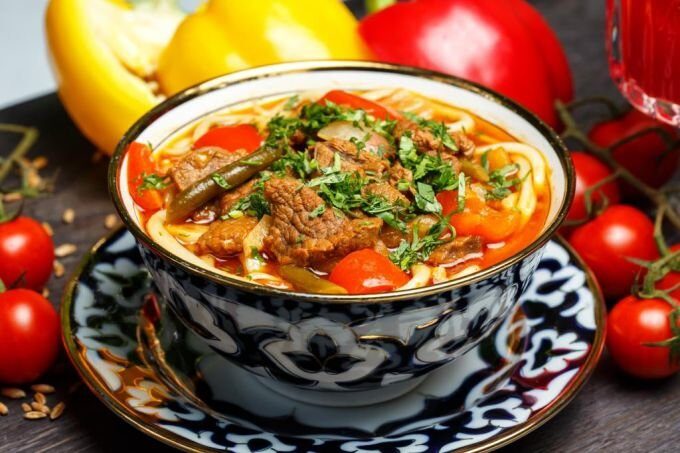 Lagman is the most popular dish in Asian countries. Lagman is prepared from special noodles with the addition of waja sauce. Many argue that lagman is truly an Uzbek dish, but it is also prepared in Tajikistan, Afghanistan, etc. But these days this dish has become popular in Russia as well. Video of the preparation of the Uzbek lagman. Also learn how to cook beef lagman, Uyghur lagman. And also noodles for lagman, video recipe or lagman, pork recipe, or how to make lagman at home.
Uzbek lagman cooking recipe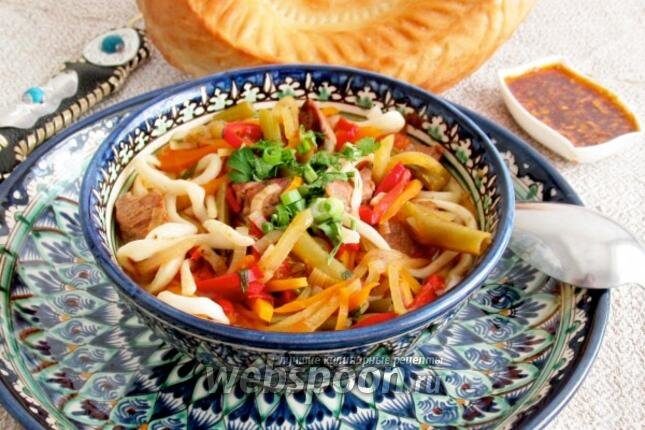 I propose a recipe for making lagman, which is designed for 4 servings. The lagman is prepared for 1 hour 45 minutes. The calorie content of lagman is not large, one serving contains about 430 kcal., 19 g. - protein, and 14 g. - carbohydrates.
For cooking you will need:
Fillet of beef 350gr .;
Butter 3 tablespoons;
4 carrots;
4 tomatoes;
2 onion heads;
Sweet pepper 3pcs .;
4 potatoes;
Meat broth 4 - 5 tbsp.;
Garlic 5 - 6 cloves;
Pepper;
Salt;
Coriander seeds;
Dill and basil;
1 pack of lagman noodles;
Vegetable oil for frying.
Preparation:
Dip the noodles into salted water, boil, discard in a colander, rinse, add butter, mix well so that the noodles are completely saturated with oil and set aside.
Rinse the fillet thoroughly, let it dry and cut into small cubes.
Peel the onion, and chop finely, wash, peel and grate the carrots as well. Wash bell peppers, remove seeds and chop finely.
Put onion in a frying pan with heated vegetable oil, and fry until golden brown, and then add pepper, carrots and simmer everything until half cooked.
Wash tomatoes, peel and chop finely. Peel the garlic and chop finely, then add meat, garlic, tomatoes and broth to the vegetables, add salt, pepper, coriander seeds, cover and let it boil.
Peel the potatoes and cut into small cubes and place in the pan. Cook for 25 to 30 minutes. Rinse the herbs thoroughly, dry and chop finely. Put the finished noodles in a deep bowl, pour over the sauce, and add herbs on top.