История происхождения блюда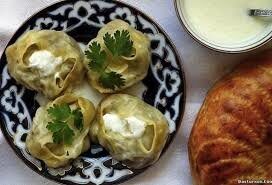 Manty is a classic dish that is popular in the cuisine of Turkic and Muslim peoples: in the Caucasus, Turkey, Mongolia, Uzbekistan and even China and Korea. The dish is also very popular in Russia and throughout the post-Soviet space, where manti came from the former Soviet Central Asian republics.
The origin of the dish is still unknown. Many facts, including etymological ones, indicate that this recipe originated in China and spread further along the Great Silk Road. In China, the word "mantou" means "stuffed head". In modern China, a similar dish is steamed pies stuffed with "baozi". In Mongolia - "mantuu". In Japan, fried burgers are called "manju". Linguistically, everything is very similar to the name "manty".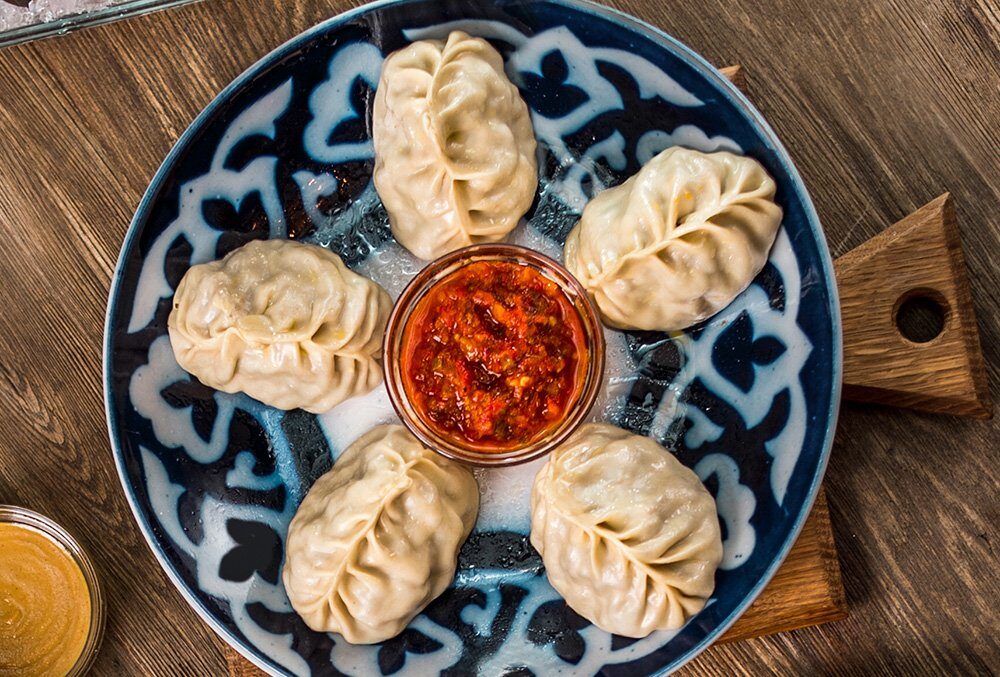 Manty are similar to dumplings but tend to be larger in size. Except perhaps the Turkish manti - they are very tiny.
Traditionally, manti are steamed in a special device called a manti cooker, a manti cooker, a manti cooker, a manti-cauldron or a manti-kaskan. The mantle is usually multi-level. Water is poured into the lower compartment, and the upper compartments have holes through which steam flows, allowing you to cook food. In the mantle, you can simultaneously cook 40 or more manti.
Steam cooking allows you to at least slightly reduce the calorie content of an already fatty dish, and at the same time not lose its rich nutritional value.
Manty in the cuisines of the peoples of the world
In Kazakh national cuisine, manti is usually filled with chopped lamb (sometimes beef or horse meat) seasoned with black pepper, sometimes with the addition of chopped pumpkin or zucchini. It is also considered a traditional Uyghur recipe. Manty is served topped with butter, sour cream or onion (garlic) sauce.
In Uzbek, Tajik, and Kyrgyz cuisine, manti is usually made from one (or a combination of several) of the following ingredients: lamb, beef, potatoes, or pumpkin, often with the addition of fat tail fat. Manti can be steamed, boiled and even fried. Manty, as a rule, are poured on top with oil and served with sour cream, tomato sauce or fresh onion rings (sprinkled with vinegar and pepper). The vinegar and chili sauce is a classic.
The same style of making manti is traditional for the Tatar, Bashkir and other cuisines of the Turkic peoples living in the vast territory of our country.
In Afghan cuisine, manti is filled with beef or lamb mixed with chopped onions and spices. Manti are also steamed, and then poured on top with a typical sauce - yogurt with a mixture of garlic, dried or fresh mint, lemon juice. Next to this sauce is another tomato-based sauce, which can include split peas, red beans and / or minced meat fried in oil. The amount of yoghurt sauce is usually significantly higher than the amount of tomato sauce - tomato sauce is intended simply to emphasize the dish, but not hide its taste.
Chutney, a spicy green or red pepper sauce, can also be served with manta rays. Many Afghans eat manti with carrot sauce instead of tomato sauce.
Uzbek manti - recipes
There are a lot of manti recipes. Today races
we look at all the details of the preparation of Uzbek manti.
The most successful and classic recipe is Uzbek manti with lamb. The cooking process is similar to how dumplings or dumplings are made, but there are several important nuances. Lean lamb (for example, lamb fillet) is ideal for minced meat. It is not customary to twist minced meat for manti through a meat grinder, but you just need to chop finely and finely. The smaller the better. Such minced meat turns out to be much more juicy. Then we take 4 onions, chop finely and add to the minced meat. Pepper well, salt, mix and go to the dough.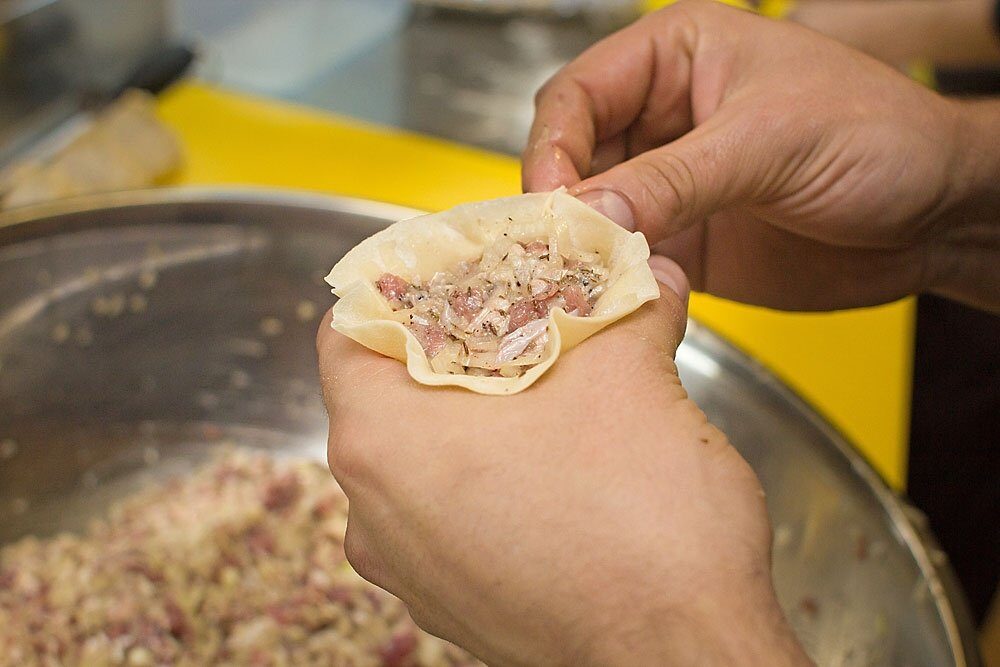 The dough for manti is usually made bland and thin. But for some recipes, yeast dough is also made. Many peoples make manti with yeast dough in the winter. For the classic test, we need:
Salt - 1 tsp
Vegetable oil - 1 tbsp.
Flour - 0.5 kg
Chicken egg - 2 pcs.
Real professionals in the preparation of manti and dough know that all the product ratios indicated in the recipes are not so important, because the flour is completely different, and the main thing is to observe not grams and kilograms, but proportions.
Dissolve the salt in a glass of warm water, add all the ingredients and mix well for at least 15-20 minutes. The flour should be added gradually. When preparing dough, it is undesirable to use a mixer, it is better to do everything with your hands. Be sure to beat the dough on the table, about 10 times, so that it becomes elastic.
We leave the dough for half an hour, after half an hour we knead again well.
For sculpting Uzbek manti, the dough should be thin-thin. Either we roll it into a thin layer and cut into squares from it, or roll it into sausages, divide it into equal parts and roll out round pieces from them. Uzbek manti can be square, triangular or round.
In each such round we put 1-1.5 tablespoons of minced meat. You don't need a little, because it will look poor, and you don't need much - otherwise the tender dough will break.
Uzbek manti are molded by hand using a special method - to fasten the ends to each other. This is a jewelry work - you need to be patient and delicate. Join two opposite corners by lightly pinching them together. Repeat this process with other corners. At the same time, you do not need to press hard on the dough, otherwise your manti will look flattened. At this point, your manti should look like small envelopes.
Dip in vegetable oil and put in a mantool. Cook for no more than 30 minutes.
It is better to boil the water in the mantle in advance.
When the time is up, turn off the steamer. And do not leave the manty inside the mantle. The manti will get wet and it will be nearly impossible to remove them from the pot.
Take out the pan with the finished dish, let the mantas rest and cool. There is no need to immediately panic and try to unstick the slightly stuck together mantles. Once they have cooled, you can easily separate them.
If you make a large batch of manti for the weekend, you can freeze them without any problems. This will help you quickly and easily prepare delicious everyday meals by simply taking them out of the freezer. One of the problems with freezing uncooked manti is that it can stick to the plate or tray in which you freeze it. It will be very difficult to separate them and you can even break the dough. In order to avoid tragedy, simply sprinkle flour on a wooden board and spread the manti in one layer on this board. Place in the freezer.